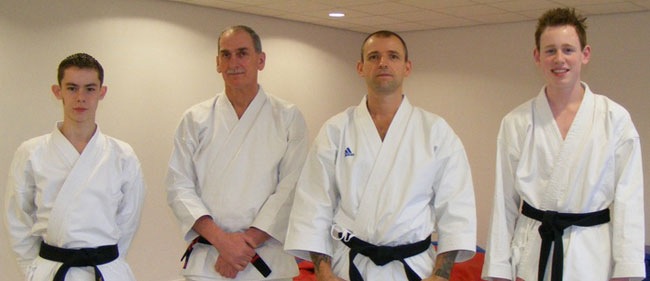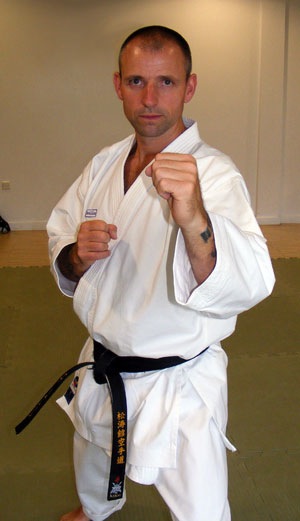 Sensei
Kevan Mitchinson
[4th Dan]
I started my martial arts journey by boxing with some friends. I enjoyed the workout and the challenge of facing an adversary. As time passed my friends and I ended up with different jobs so we could no longer train together and I didn't enjoy my boxing as much as I had with my mates.
I looked round for something to fill that gap and found a karate club where my daughter Zoe tap danced so I decided to give it a go.
It was a disconcerting moment walking into the club as a grown man, not knowing a single person there and knowing nothing about karate. In fact, years later I realized that I was the only person in the karate club that hadn't watched a Bruce Lee or Chuck Norris movie!
The rest, as they say, is history. I found much more than just a fighting art, I found a challenge that is still there with every session.
My family are all very karate orientated. My wife, Alison, is the club secretary and is involved with aspects of karate outside of the dojo. All five of my daughters have trained though, so far, none have made it to black belt. I am hoping that Jessica and Eleisha will be the first to do so.
With a family of five it is no surprise that I like teaching kids. I like the atmosphere that surrounds children, they are so buzzing with life and enthusiasm and it is a great responsibility to have a small part in their development as person.
I have no great personal ambitions in karate, but I want to run a karate club which is respected for its quality and the achievements of its members. There is nothing quite so satisfying as seeing a young person succeed knowing that you helped push them in the right direction.
Morals and ethics are important to me. I strongly believe in fair play and sportsmanship and I try to pass on these beliefs to my students.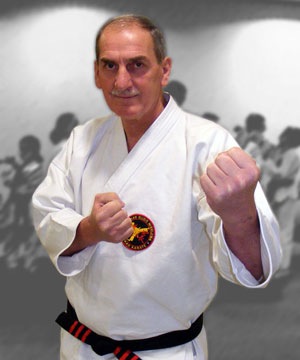 Sensei
Ron Angus
[4th Dan]
Ron has trained in karate since the early 1980s and has seen many changes in the martial arts over the last three decades, but he believes that the core concepts and true meaning of karate has not changed since his first day in the dojo.
Over the years Ron has trained several generations of children in the way of karate, and those students now bring their children to learn under his tutelage.
Ron sees his primary role in the club as providing the beginners and young children with the best possible start in their karate path ensuring that they understand that karate is much, much more than just fighting.
Ron still enjoys his regular karate sessions especially the challenge of kata - particularly Gion - and is liked and respected by both the students and his peers.
Now in his early 60s, Ron's karate has become as much a part of his life as breathing and he has no intention of quitting any time soon.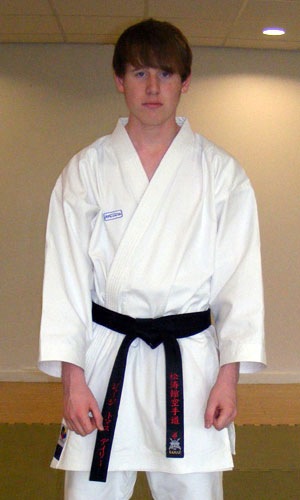 Sensei
Tom Daley
[2nd Dan]
"I started karate at the age of six and probably would have quit six months later had it not been for constant encouragement from my Grandad. He saw something in karate that I did not (at that age).

"He believed in the principles of having enough personal discipline to see something through to the end. Of course, I now know there is no end to karate. Without karate I would have been the stereotypical teenage boy sitting alone in my bedroom playing computer games every night. Through my karate I have made a massive network of friends and aquaintances and still have had plenty of time to play computer games.

"When Sensei Mitchinson started the Dokan karate club in 2009 I began my training to become a qualified instructor (which I passed in July 2010). I have been all over the country entering competitions and attending seminars.

"There is more to karate than just karate, there is the social aspect too and I have learned elements of how to communicate with both children and adults. Karate has played a leading role in the forging of my character.

"I owe my Grandad a debt of thanks for many things but especially for making me stick with karate."

Tom brings to the dojo a level headed sense of fairness and treats all with humour and laughter.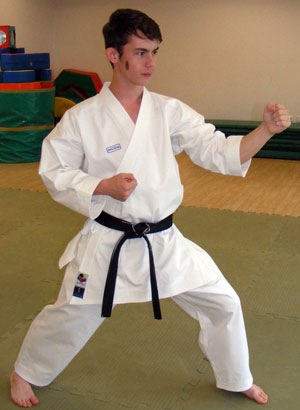 Sensei
Paul Goldsmith
[2nd Dan]
"I started karate at the turn of the millennium when I was about eight years old.
"I started to develop a genuine interest in the sport and its traditions very early on in my training. At first, karate was just a hobby but as I progressed through the grades it became much more than that, I started to understand the sport and its values and decided that this was something I'd like to stick with.
"I like the idea that black belt is only the beginning and not the end. It took me three years to become a black belt however eight years down the line I'm still learning.
"Training and teaching has now become a part of my everyday life.
"I've grown up doing karate and I wouldn't have it any other way."
Paul cites Sensei Enoida and others like him (people who have dedicated their whole life to karate) as his main inspirations in Karate.
Paul also takes the first and foremost of the dojo kun,
"jinkaku kansei ni tsutomuro koto"
(strive for the perfection of character), as his personal belief set both in and out of the dojo.
"Be the best person you can. Who could ask for more?"